ROK High School Group Presents Policy Research on Peace and Disarmament to UN Officials
26th March 2021
ROK High School Group Presents Policy Research on Peace and Disarmament to UN Officials
By Jae Yeon Kim #Youth4Disarmament Member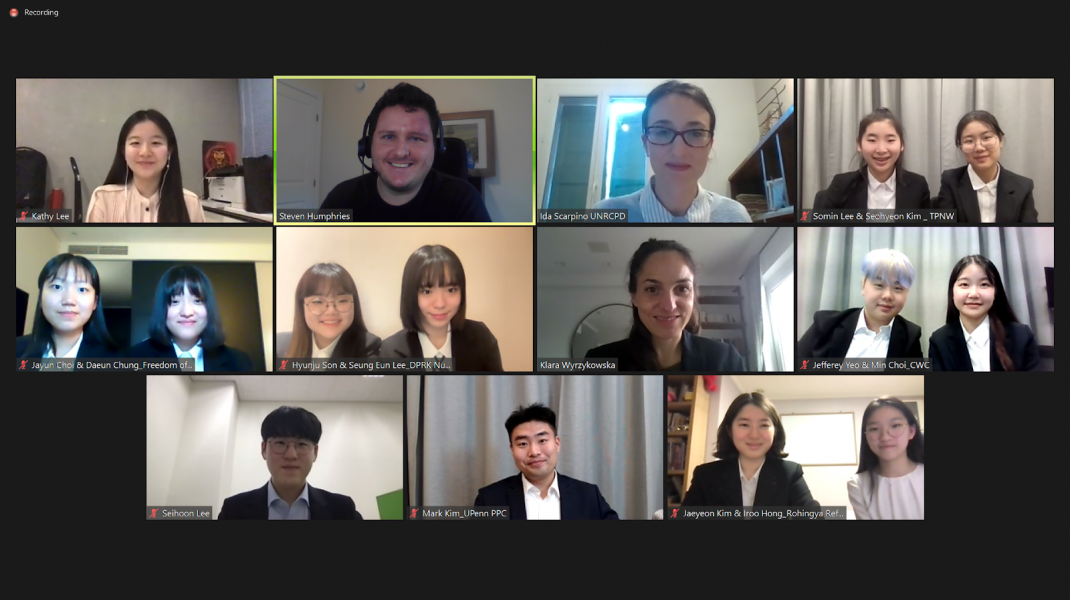 UNODA and UNDPPA officials, Korea Youth Advocacy Forum (KYAF) members, and the University of Pennsylvania Policy Consulting Group (PPC) mentors smile for a group picture.
The need for disarmament and peace has never been more urgent and pressing. As a South Korean high school student, I have always asked myself: how can young people find a practical solution that contributes to the UN's Youth, Peace, and Security agenda as well as #Youth4Disarmament Initiative? If you have also wondered about the power of youth activism, I hope that my story can serve as a guide for you to join the vibrant youth campaign for disarmament and peacebuilding.
In November 2020, I was lucky enough to attend the disarmament education event, organized by the University of Pennsylvania Policy Consulting group (PPC) in November last year. I was immediately captivated by their education curriculum content. But I was most inspired by the PPC staff members' message that any youth group like the PPC can make a tangible contribution to the UN's work in disarmament and #Youth4Disarmament Initiative.
Based on their hopeful and inclusive message, I remained in touch with PPC staff and co-founded the Korea Youth Advocacy Forum (KYAF) with "Jeffrey" In Yeol Yeo, a dear friend of mine. Our group strived to translate youth voices to global policy advocacy and research, and we soon gathered ROK high school leaders with a passion in disarmament and peace. Since November, KYAF members have conducted independent policy research on five pressing issues in Northeast Asia: The Treaty on the Prohibition of Nuclear Weapons (TPNW), Chemical Weapon Convention (CWC), DPRK nuclear crisis, freedom of speech in social media, and Rohingya refugee crisis. 
Of course, it was mind-numbingly difficult to conduct policy research at times. As high school students, understanding how international laws and conventions work was difficult to grasp or comprehend. But PPC members provided warm feedback and mentorship throughout the process and helped clarify areas in which we had little prior knowledge. We are grateful for their support and believe it is a proof of potential positive synergy between youth groups working in this space.
After five-months, we finally finished our policy research and proposals. Now, it was time to finally inspire action. In March, we presented our research to the OHCHR Seoul Office and the Center for Security Policy Studies at George Mason University Korea. It was inspiring to receive invaluable feedback and acclaim from leading scholars and practitioners. 
But we were most excited to coordinate and participate in an event titled "Youth Perspectives in Disarmament and Peace: A Policy Proposal Event" on March 26th, 2021. KYAF members were honored to present our policy proposals to representatives of the United Nations Office for Disarmament Affairs (UNODA)'s Regional Centre for Peace and Disarmament in Asia and the Pacific (UNRCPD), and the United Nations Department of Political and Peacekeeping Affairs (UNDPPA)  – the very same experts who work to advance peace and disarmament in the Northeast Asia region. Above all, it was incredibly empowering to engage with the UN staff about each topic and hear that our policy proposals were well-received and will receive serious consideration. 
Peace and disarmament are issues that require patience. But the warm reception and encouragement from UNODA and UNDPPA and our policy activism give me confidence that youth-led grassroots movement can serve as a powerful voice for change in the policy dialogue. As difficult as policy research was, it was ultimately rewarding to see our advocacy come to fruition with the generous support of the UN practitioners and PPC mentors – especially "Mark" Min Seong Kim, "Kathy" Seungyun Lee,  and "Daniel" Seihoon Lee.
We hope that our experience becomes a stepping stone that sparks further youth activism in the YPS agenda and #Youth4Disarmament Initiative. After all, the future and security of our world depend on our collective action.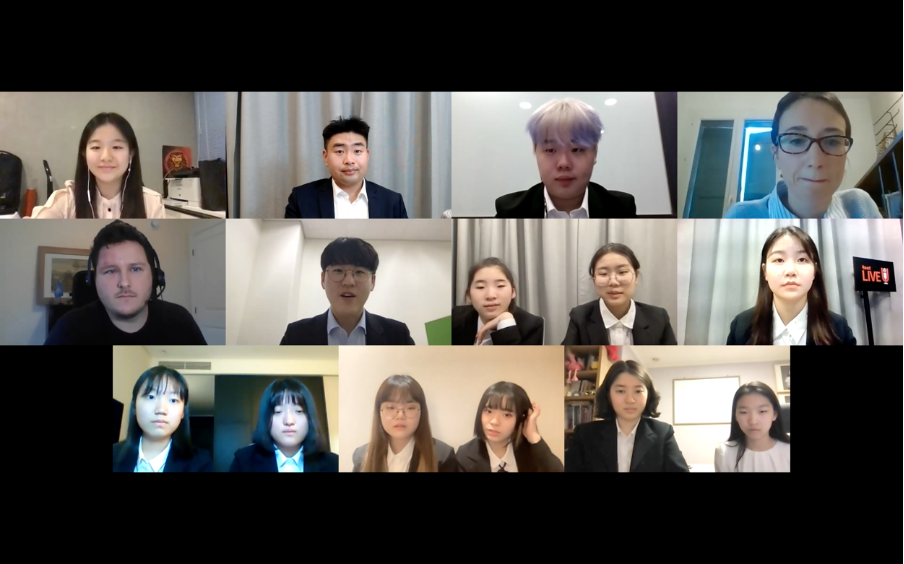 Seihoon Lee and Seungyun Lee, representatives and leads of the Penn Policy Consulting Group (PPC) Korea, moderated the virtual event.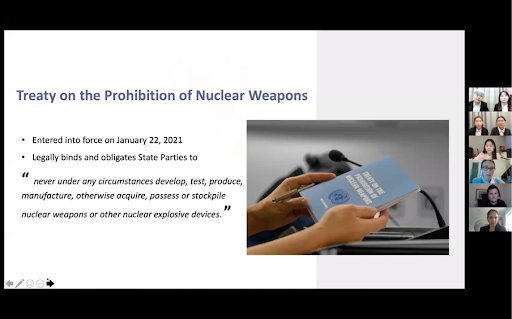 Seohyeon Kim and Somin Lee highlighted the importance of the Treaty on the Prohibition of Nuclear Weapons (TPNW) and advocated for the goal of general and complete nuclear disarmament.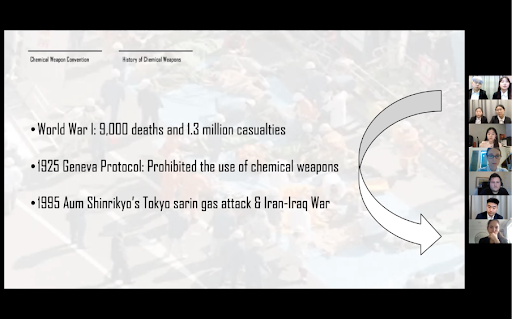 In Yeol Yeo and Min Choi urged member states to protect the Chemical Weapons Conventions (CWC) and explained how the treaty is also entangled with fundamental human rights violations.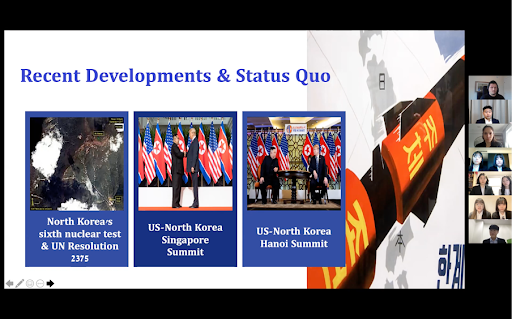 Hyunju Son and Seungeun Lee analyzed the history of DPRK nuclear disarmament efforts and urged the international community to work to achieve complete, verifiable, and irreversible denuclearization of the Korean peninsula.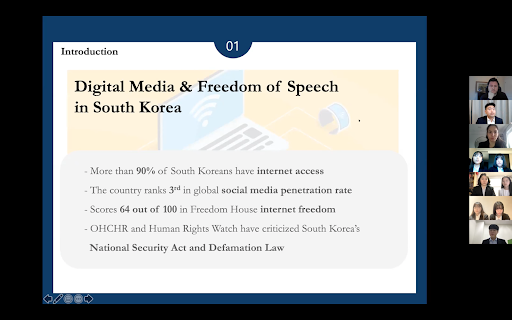 Jayun Choi and Daeun Chung addressed the importance of protecting freedom of speech on social media and urged the UN to adopt additional multilateral guideline on social media free speech.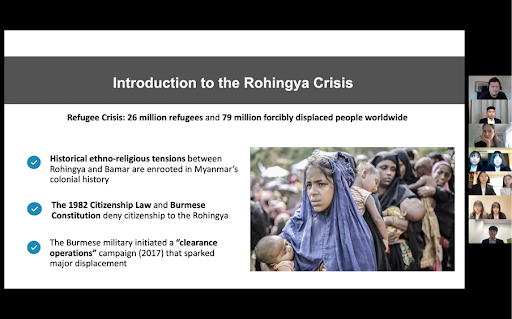 I and Iroo Hong emphasized the necessity of a strong collective response to delineate responsibility between all member states and provide legal remedies to the continued Rohingya refugee crisis.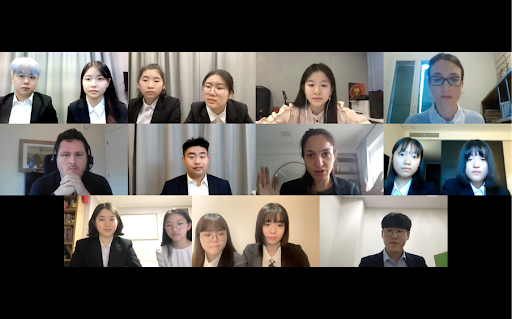 KYAF students enjoy an engaging discussion with UNDPPA and UNODA officials.
Steven Humphries Ida Scarpino  [source: UNRCPD]