Peace and Disarmament Education
UNRCPD is committed to assisting Asia-Pacific states requesting support in delivering Peace and Disarmament education. Currently, UNRCPD is working with Nepal to implement a new model of delivering Peace and Disarmament education to meet post-conflict challenges – a model UNRCPD aims to bring to other countries in Asia and the Pacific.
Education plays a vital role to develop a culture of peace.

— Mr. Mahesh Paudel, Nepali School Principal
To mark the International Day of Peace 2018, UNRCPD presents a video which highlights the important role youth have in arms control, disarmament and peace education. We celebrate the Right to Peace.
Peace and Disarmament Education Programme in Nepal (2013-2015)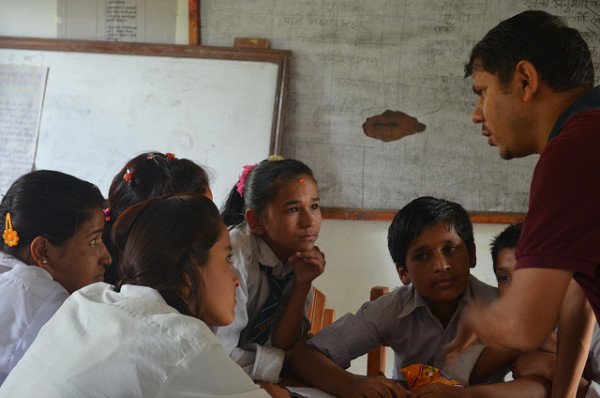 Since 2013, UNRCPD has been supporting the Government of Nepal in its efforts to deliver peace education under the national curriculum. By operating within existing structures to infuse high quality technical expertise into teaching materials and pedagogy, UNRCPD aims to promote non-violent values and behavior (e.g. tolerance and celebrating diversity).
In 2013, Phase I of the Programme was launched. Over the course of 12 months, PDE content for grade 8 curricula and textbooks have been developed, a baseline study on PDE and student's behavior regarding conflict resolution has been conducted, and efforts to raise awareness on the importance of Peace and Disarmament Education amongst key Government officials have successfully been carried out. The products of this first phase of the project –curricular contents and textbooks- will reach an estimated 300,000 grade 8 children per year.
Phase I of the project funded by:
Risshō Kōsei-kai Foundation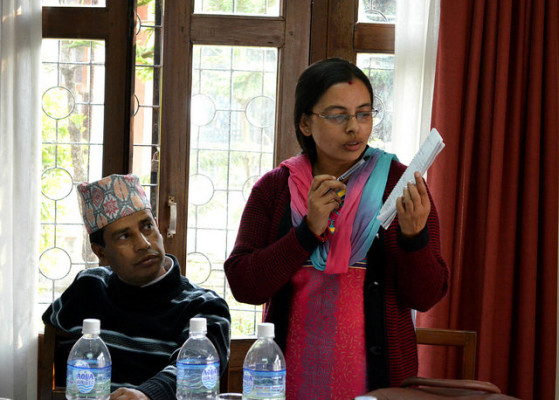 From December 2014 – July 2015, phase II of the Peace and Disarmament Programme project was implemented. Based on the achievements of phase I, the scope of the project was extended. In addition to grades 9 and 10 textbooks and curricula, a Peace and Disarmament Education optional course for grades 6-8, teacher's guides for grade 8, as well as a Peace and Disarmament Education teacher training gap analysis were developed.
Visit the eventpage or click on the pictures to learn more about this project and its workshops
Phase II of the project funded by:
Embassy of Switzerland in Nepal
 
The curricula, textbooks and the teacher's guides developed during phases I and II of the Programme, will reach more than 700,000 Nepali children per year. Specifically targeting the age group of 13-17 year olds provides students with the skills needed to transform conflicts using non-violent approaches during a key developmental period in their lives. By addressing the roots of interpersonal violence and reducing the demand for arms, the project helps strengthen the fragile peace that Nepal has worked tirelessly to achieve.
Taking the Model to Other Post-Conflict Countries in Asia and the Pacific
Using the Nepal model, UNRCPD is seeking to bring Peace and Disarmament Education to other post-conflict countries in Asia-Pacific. This low cost, high impact model is a sustainable way to give governments the technical expertise they need to deliver conflict resolution and peace education. As a Regional Centre, UNRCPD is committed to adapting its approach to meet the specific needs of requesting states. For further details, please contact info@unrcpd.org.
Peace and Disarmament Education in the UN System 
In line with UNRCPD's mandate and General Assembly resolutions recommending implementation of disarmament and non-proliferation education (e.g. A/69/65,  A/69/113), UNRCPD's Peace and Disarmament Education activities seek to shape the values, skills and behavior of students towards non-violent responses to conflict at the individual, national and global levels. To see the range of materials available in the UNODA collection, please visit UNODA's Disarmament Education Resources for Learning and UNODA Education – Reports of the Secretary General.
Related Activities
Volunteers for Peace Education (2011)
In 2011, UNRCPD piloted a model for the promotion of non-violent conflict resolution with young people. The project developed training modules on peace education, implemented training of trainers for youth volunteers and facilitated workshops at public schools in pilot districts. These activities established a network of youth empowered to act as mediators and ambassadors for peace in their colleges and communities.
Learn more about this project here, view pictures here.
Art for Peace Competition 2012 – 2014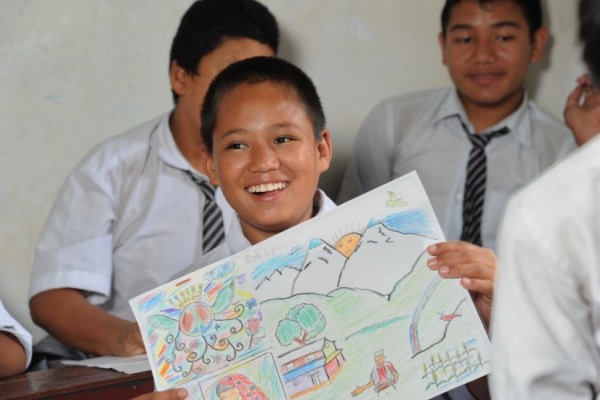 Drawing is a creative outlet for children to express their views on what peace means to them, their families and their communities. Between 2012 and 2014 UNRCPD's Art for Peace competition reached over 1,000 students, helping them reflect on the importance of peace and how it might be achieved in their lives.
Learn more about the competitions in 2012, 2013, 2014.